The Professional Soccer Referees Association released a statement Wednesday condemning Portland Thorns coach Mark Parsons for his actions following a match in North Carolina on March 24 and criticizing the National Women's Soccer League for its handling of the incident.
The Professional Soccer Referees Association, the certified labor union representing officials employed by PRO, contends that Parsons "squeezed a hidden clump of dirt and grass" into the hands of an official when going to shake hands with the referees after the game. The PSRA claims that the action was "willful, intentional and insulting."
Prior to the release of the PSRA's statement, Parsons told media he had been incorrectly accused. He did not discuss the specifics of the incident. The Thorns did not release any additional statements following the PSRA's statement Wednesday.
"Maybe put myself in a difficult spot," Parsons said. "Obviously, we disagreed unbelievably strongly about what the decision was or what the accusation was, which I'm not going to talk about."
While Parsons did not talk about what led to the interaction with the official, he and the club may have been unhappy with the referee's decision not to call a penalty in the 80th minute when Midge Purce appeared to be taken down in the box.
Parsons was immediately sent off by officials following the incident and handed an automatic one-game suspension.
The NWSL later announced it would be issuing Parsons a fine and suspending him for an additional game due to his actions. But after the Thorns appealed, the NWSL lifted the second game of the suspension.
The PSRA said in its statement that it strongly opposed the NWSL's decision to lift the second game of the suspension. The organization wrote that it believed the NWSL missed an opportunity to send a "strong message" that unprofessional actions won't be tolerated.
"The appeal was handled in a haphazard manner that does not stand up to basic scrutiny. Unfortunately, the investigation of this appeal seems to fit a pattern of inadequate, too-lenient investigations by the league into inappropriate coach behavior," the PSRA wrote.
The NWSL responded to the PSRA's statement with a statement of its own Wednesday afternoon. The NWSL said it believed the one-game suspension and fine that was upheld following the appeal process was the appropriate punishment for the incident.
"We reviewed the information available and are confident the situation deemed a one-game suspension and applicable fine, which was upheld," the NWSL's statement said. "We all want our games to be played, coached and officiated with integrity and at the highest level. The type of behavior that warranted the suspension and fine is unacceptable and the league will continue to ensure that players and coaches respect officials at all times."
Parsons praised the NWSL's handling of the appeal process Wednesday as well.
"I'm upset with myself that I put the team in a situation where it could have distracted us or hurt us I was angry and upset that we got put in that spot, but I'm the only one accountable and responsible for that," Parsons said. "I'm glad that we appealed and the league came around."
Here is the full statement from The Professional Soccer Referees Association: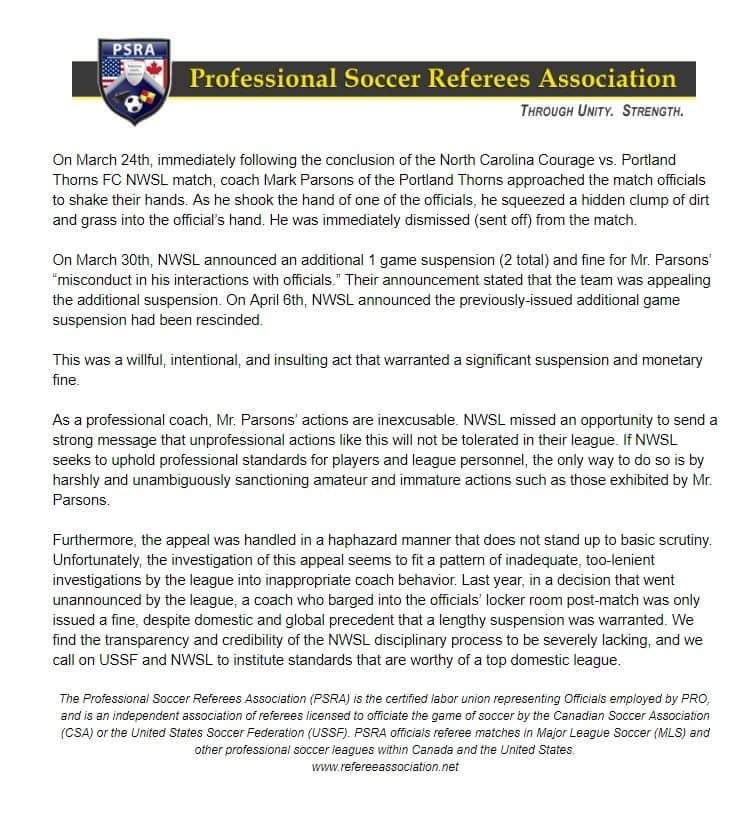 Comments
comments
NWSL standings
| Pos | Club | P | W | L | D | Pts |
| --- | --- | --- | --- | --- | --- | --- |
| 1 | Chicago | 0 | 0 | 0 | 0 | 0 |
| 1 | Houston | 0 | 0 | 0 | 0 | 0 |
| 1 | N Carolina | 0 | 0 | 0 | 0 | 0 |
| 1 | Orlando | 0 | 0 | 0 | 0 | 0 |
| 1 | Portland | 0 | 0 | 0 | 0 | 0 |
| 1 | Seattle | 0 | 0 | 0 | 0 | 0 |
| 1 | Sky Blue | 0 | 0 | 0 | 0 | 0 |
| 1 | Utah | 0 | 0 | 0 | 0 | 0 |
| 1 | Washington | 0 | 0 | 0 | 0 | 0 |
NWSL Calendar
November 2019
S
M
T
W
T
F
S
1
2
3
4
5
6
7
8
9
10
11
12
13
14
15
16
17
18
19
20
21
22
23
24
25
26
27
28
29
30